Can Netflix and Disney continue to rebound?
The rebound in the streaming media sector is benefiting from the overall stock market rally and the confidence brought to investors by the latest user growth data. The question is, where are the risks?
The US stock streaming media sector experienced a strong rebound at the beginning of this month. On November 2nd, Roku (ROKU.US) surged by 30.74%. Warner Bros. Discovery (WBD.US), which owns the streaming media platform Max (formerly HBO Max), rose by 9.92%, marking its largest single-day increase since January 4th. Paramount+, the parent company of Paramount Global (PARA.US), rose by 10.37%, achieving its best single-day performance in 9 months shortly after hitting a 14-year low. Disney (DIS.US), the parent company of Disney+ and ESPN+, rose by 2.74%, becoming one of the top gainers in the Dow Jones Index. The industry leader, Netflix (NFLX.US), also rose by 1.08%, reaching a new seven-week high.
The rebound in the streaming media sector was driven by the overall stock market rally and the confidence brought by the latest user growth data. Among them, Roku's active accounts in the third quarter reached 75.8 million, surpassing analysts' expectations of 75.33 million, with a net increase of 2.3 million from the second quarter. Netflix's most closely watched performance indicator, the number of paid subscribers, increased by 8.76 million in the third quarter, far exceeding analysts' expectations of 6.2 million. The company also announced a subscription price increase for some packages to improve profitability.


Key performance indicators for Roku Q3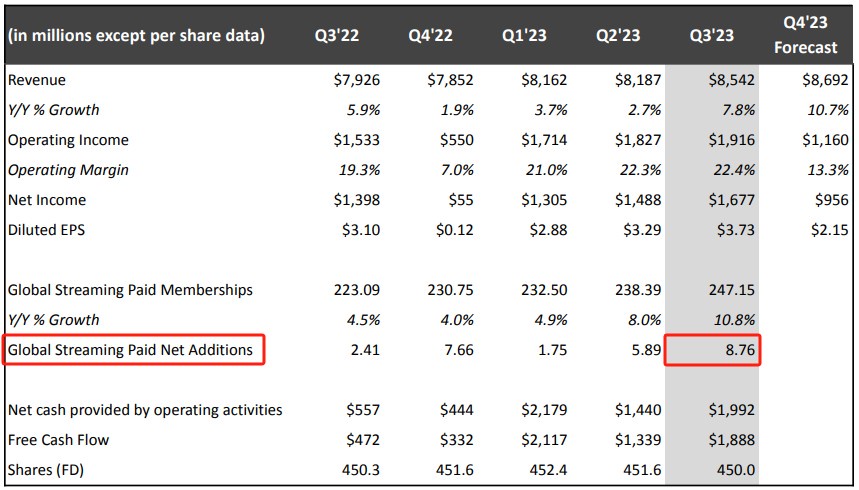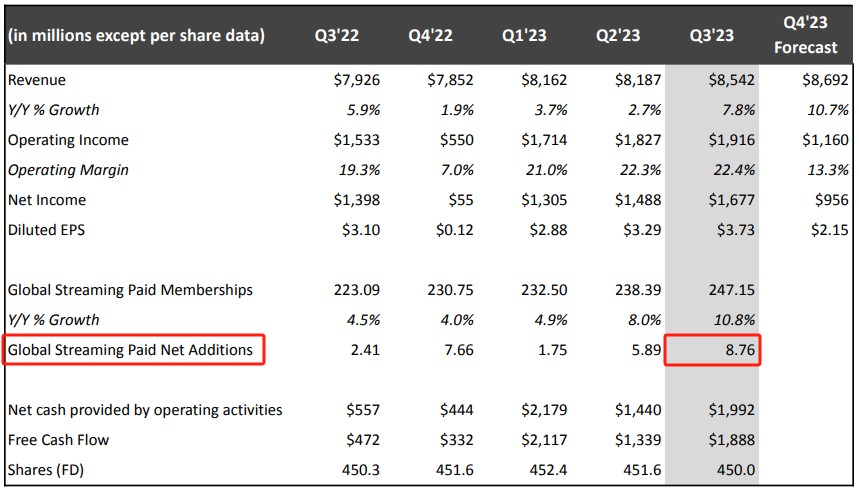 Key performance indicators for Netflix Q3
Meanwhile, Paramount+, the streaming media platform under Paramount Global, saw a 61% year-on-year increase in revenue in the third quarter. Its user base increased by 2.7 million, reaching a total of over 63 million users, and the average revenue per user (ARPU) increased by 16% year-on-year. Disney's Disney+ and Disney+Hotstar had a total of 150.2 million paid subscribers as of the end of the third quarter, surpassing market expectations of 148.2 million, with a net increase of 7 million from the second quarter.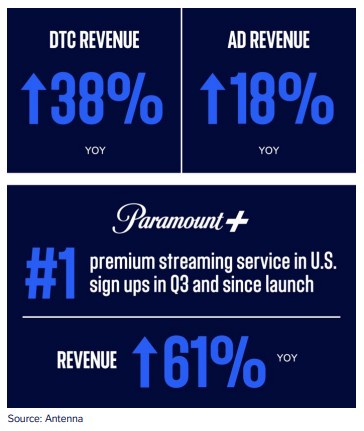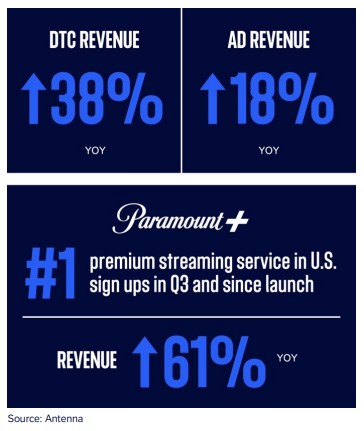 Paramount Universal Q3 Key Indicators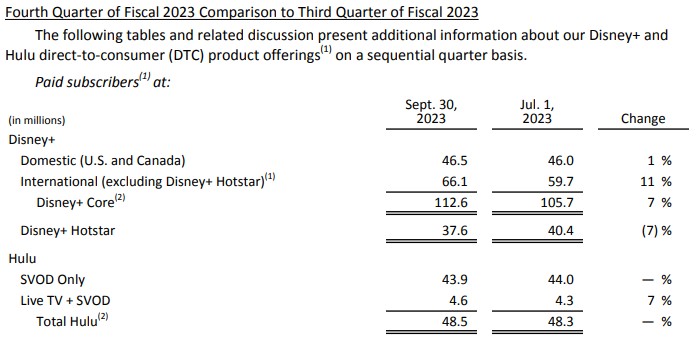 Disney Q3 Key Indicators
I. Multiple Positive Factors for Streaming Platforms
After this wave of growth, can the streaming sector continue its momentum? Some analysts believe that several positive factors will drive the performance of the streaming sector in the future, including the following:
Seasonal Boost in User Acquisition
One of the key metrics that the market pays attention to for streaming platforms is net new users, as further expansion of the user base will help these platforms achieve better revenue and profitability. Data shows that the fourth quarter of each year seems to be the quarter with the highest net new users for streaming platforms, possibly because the cold winter weather allows people to spend more time at home and pass the time on streaming platforms.
In addition, it has been reported that Netflix and Warner Bros. Discovery Channel will collaborate with telecommunications operator Verizon (VZ.US) to provide consumers with bundled streaming service packages that include discounts. This new bundling strategy may bring new users to streaming platforms.
Launch of High-Quality Content
For streaming platforms, the quality of content is crucial in attracting users. In the fourth quarter, major platforms have already released or will soon release highly popular series. For example, the second season of the Marvel series "Loki," which premiered on Disney+, has reached its grand finale and has performed well in terms of viewership and word-of-mouth. Disney's data shows that since the grand finale of the second season of "Loki" aired on the 9th, it has accumulated a total of 11.2 million views worldwide in three days, making it Disney's second-highest-rated grand finale this year, second only to the final episode of the third season of "The Mandalorian."
The sixth season of Netflix's "The Crown" was released on November 16th. This series, which portrays the story of the British royal family, has received rave reviews from audiences since its premiere in 2016. Netflix has also released a series adaptation of the Pulitzer Prize-winning novel "All the Light We Cannot See" by Anthony Doerr, which premiered earlier this month. Netflix has also released an animated series adaptation of Capcom's popular survival game "Ghost Warrior" and another new animated series "Blue-Eyed Samurai." It is worth mentioning that a reality show called "Squid Game: Real Challenge" based on the hit series "Squid Game" from last year will also be released on November 22nd, with the competition content consistent with the series and new content added.
In addition, the new series "Mayor of Kingstown," directed by Taylor Sheridan, the screenwriter of the highly acclaimed western drama "Yellowstone," also premiered on Paramount+ earlier this month. This spin-off series of the "Yellowstone" series is expected to attract the attention of many fans of western works. 3. End of Strikes for Screenwriters and Actors, Multiple Film and TV Productions Return to Normal
On November 8th, local time, the American Actors' Guild announced on its official website that it had reached an agreement with the American Film and Television Producers Alliance, ending the 118-day strike. Earlier on September 27th, the board members of the American Writers' Guild approved a new agreement with film production companies, officially ending the nearly 5-month strike.
The end of the strikes by the actors and screenwriters has allowed multiple film and TV productions to return to normal. According to reports, flagship series such as "Stranger Things," "Penguin," "Yellowstone," and "Mayor of Kingston" are expected to resume filming one after another. In addition, 22 series including "Elementary," "Grey's Anatomy," "Young Sheldon," "Rookie Blue," and "FBI" will resume production in late November. Nearly 13 series including "NCIS," "CSI: Vegas," and "Friends of the Old Mansion" will gradually begin filming in early December. The return to normalcy in film and TV production will help various streaming platforms release new content in a timely manner to attract users, and will no longer affect their financial performance due to strikes.
4. Advertising Market Recovery, Digital Media Continues to Rebound
The recovery of the US advertising market is expected to benefit streaming platforms that rely on advertising revenue, such as Roku. After two quarters of stagnation, US advertising spending accelerated in the second quarter, with a year-on-year growth of 4.4%. Digital media was the only sector that saw significant improvement in advertising sales. Global media investment brand and think tank MAGNA stated in October that due to better economic prospects and continued influx of retail media funds into digital advertising, it has raised its forecast for total media advertising spending in the US for the whole year of 2023 by one percentage point to 5.2%, with digital media expected to grow by 9.6%.
5. Investors' Optimistic Expectations for the US Economy
Meanwhile, the continued slowdown in inflation data and the still strong performance of the US economy (strong retail spending, new housing starts) have convinced most investors that the Federal Reserve has effectively ended rate hikes and will begin cutting rates in the first half of next year. They also believe that the US can maintain economic resilience and avoid recession during the most aggressive rate hike cycle in history. A survey by Bank of America showed that nearly 75% of the investors surveyed recently believed that a soft landing is their basic view of the global economy in 2024.
With the optimistic expectation of a soft landing for the US economy, consumers will be able to maintain their spending on streaming services, and advertisers will be able to continue their advertising expenditures. This will help streaming platforms attract and retain users, as well as advertisers, and boost their revenue and profitability.
II. These Risks Also Deserve Attention
In addition to the many positive factors mentioned above, the streaming sector may also face headwinds, including potential economic slowdown and the backlash from rising streaming subscription prices. 1. The US Economy's Soft Landing is Not Set in Stone
For streaming platforms, the stability of the macroeconomic environment and the extent to which consumer spending is constrained are the main factors affecting their performance. However, not all market participants are 100% confident that the US economy will achieve a soft landing.
Lindsay Rosner, Managing Director of Multi-Industry Fixed Income at Goldman Sachs, believes that the lesson of the past few years is that all savvy investors must remain humble when making economic forecasts. It is important to remember that there are many possibilities for how things will unfold, and the probability of a soft landing is not 100%. Goldman Sachs is concerned that although US inflation is slowing down, it is still higher than the target, and US consumers and economic growth can clearly withstand higher interest rates.
Jonathan Pingle, an economist at UBS, recently pointed out that with the economic slowdown and the emergence of additional anti-inflationary forces, it is expected that the Federal Reserve will fully shift to a loose monetary policy and take more interest rate cuts in the second half of next year. By the end of next year, the federal funds rate will drop from the current level of over 5% to slightly below 3%.
It is worth noting that the core of UBS's view is that the impact of interest rate hikes on consumer spending has not yet been seen, indicating that demand will slow down. According to UBS's data, various types of consumer debt, such as credit card debt, have recently increased, with personal interest payments accounting for nearly 2.5% of personal income, the highest level since the early 21st century. In comparison, during the pandemic, this ratio was only slightly above 1%. In addition, personal savings have fallen from the peak reached in the early stages of the pandemic. From the early stages of the pandemic to mid-2020, cash savings increased by about $2 trillion, but more than half of it has been spent, reducing the total amount of additional savings to less than $1 trillion.
UBS states that the reduction in savings and inflation may prompt consumers to cut spending, damaging economic growth. By the end of 2024, the unemployment rate may rise from October's 3.9% to 5%. The rise in the unemployment rate will in turn further prompt consumers to cut spending, and by then, inflation will also further decline, giving the Federal Reserve the option to prevent the economy from slowing down excessively by relaxing monetary policy.
2. Price Increases: A Double-Edged Sword
In addition, most streaming platforms have raised their prices this year. While price increases may help boost the revenue and profitability of streaming platforms, they may also cause users to leave due to high subscription costs. It has been reported that if users subscribe to all streaming platforms, their monthly expenses will reach $87, higher than last year's $73, and exceeding the total cost of an equivalent cable TV package, which is $83.
The report also pointed out that several executives in the media industry believe that there is a bubble in the streaming industry, and relying on price increases to increase revenue is not sustainable. If the subscription prices of streaming platforms continue to rise, the date of a "collapse" will be closer.
Other risks include: lower-than-expected content quality and the impact of short video platforms such as TikTok. III. Conclusion
In summary, the improvement in market fundamentals should benefit various streaming platforms in further expanding their user base. Coupled with the improvement in the advertising market, these streaming companies are expected to achieve better revenue and profitability. Wall Street analysts have an average "buy" rating for Netflix, Roku, Disney, and Warner Bros. Discovery, and an average "hold" rating for Paramount Global.
For investors who are interested in the streaming industry, these stocks mentioned above are worth being optimistic about. However, it is important to note that all of this depends on whether the macroeconomic environment remains stable. If there is increasing evidence that consumer pressure is growing or if an economic recession becomes a reality, the limited consumer spending will have an impact on these streaming platforms.